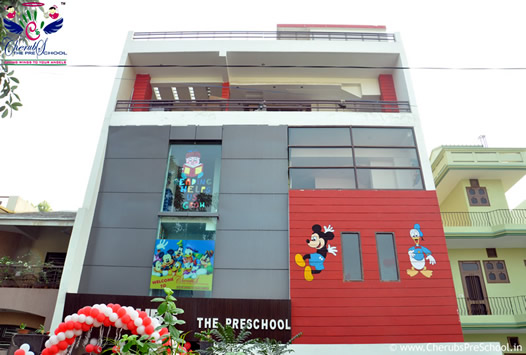 A.C. Classrooms - All the classrooms are lively, colourful and air conditioned with lot of informative toys and soft boards. The classroom furniture is imported, colourful and child friendly.
Educomp Smartclass - Smart class is a digital and interactive class room environment, which is rapidly transforming the way teachers teach and students learn in schools with innovative and meaningful use of technology. Powered by Educomp mapped to Indian School Curriculum, smart class brings in technology right next to the blackboard for teachers in the classrooms. Students learn difficult and abstract curriculum concepts watching highly engaging visuals and animations. This makes learning an enjoyable experience for our little cherubs.
Experienced Faculty - We believe that the strength of the preschool is in the dedication of the teaching staff. Teachers create a kind, caring atmosphere to foster imagination and creativity. All our staff members are very well educated and experienced in handling small children. We call them mother teachers as they give lot of love and attention to each child. We strive to create mutual respect and encourage weekly communication between parents, teachers, and administrators.
A.C. School Vans - We offer air conditioned transport service to our kids which is very safe and comfortable.
Amphitheatre - Since stage exposure is very important for every child we have an amphitheatre in our school where children practice their skills.
Well Equipped Library - We have a well equipped library with lot of books from India and abroad which are very informative and useful for small children.
Computer Lab - Our computer lab has computers for kids to learn through different kinds of software and educational games.
Splash Pool - The splash pool in cherubs is very child friendly and safe. We organize pool parties and rain dance parties for our little cherubs in summers to beat the heat.
Ball Pool - We have a very spacious and beautiful ball pool which is stuffed with ball of myriad colours. Children love to throw the balls at each other and their teachers, lie down, jump and simply play with the balls.
Puppet Theatre - Our puppet theatre has awesome collection of hand finger puppets and regular puppet shows are done for children for better learning.
Settling Zone - This room is beautifully painted with beautiful flowers and cartoon characters so that new children enjoy and get attracted towards their first school. New joiners are welcomed in this room for initial days till they become comfortable. Special activities to engross them and develop a relation with the teachers are organized here.
Indoor and Outdoor Play Zone - The play zones are built for free play and outdoor activities and role play.
Elevator - An elevator is installed specially in the school for the kids to go on different floors. The elevator is very safe and child friendly and has power back up as well.